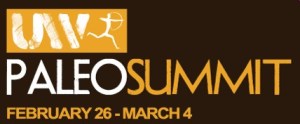 On the Paleo Summit, Day 5 we have Denise Minger, a former raw vegan and avid student of nutrition, Chris Kresser, licensed acupuncturist and practitioner of integrative medicine, and Reed Davis, clinical nutritionist and founder of the Functional Diagnostic Nutrition® (FDN).
Denise Minger -  How to Win an Argument with a Vegetarian
The Paleo Diet has its fair share of detractors objecting to the consumption of animal foods while promoting the virtues of being vegan or vegetarian. But are vegans and vegetarians immune to cancer and heart disease? Does meat consumption cause bone loss? Denise Minger gives us the scientific scoop. Some of the topics Denise covers are:
The plant base doctor squad
Is there any scientific evidence that removing animal foods has any health benefits whatsoever?
About the China study - in a nut shell
Are vegans immune to heart disease?
Religious vegetarians (Buddhists, Seventh Day Adventists)
I admit, I was waiting to hear Denise's interview and I was not disappointed! Listen in and learn more about vegans and vegetarians.
Chris Kresser – An Update on Cholesterol
The cholesterol hypothesis has its staunch proponents as well as its skeptics. So who's right? Chris presents the latest research demonstrating why elevated cholesterol scores should not be dismissed by the skeptics. He also explains why a high cholesterol score is not always cause for a prescription. Some of the questions Chris answers:
Who's right about cholesterol?
Potential underlying causes of high cholesterol
What do conventional doctors and researchers get right and what do they get wrong?
What causes LDL oxidation?
What are the problems with testing for LDL particle size?
This was a fascinating interview. I learned so much about cholesterol that I did not know. This is a VERY important presentation!
Reed Davis – Stress, Hormones, and the Paleo Lifestyle
How did the stressors of Paleolithic living compare to those of modern man and woman? Hormones expert Reed Davis outlines how to combat the systemic dysfunctions induced by the chronic stress, environmental toxicity, and hidden infections caused by modern living. Topics Reed addresses:
Does stress affect modern man more than Paleo man?
Discusses Otzi the iceman (fascinating!!)
How does diet fit into the stress response?
Discusses Cree Indians - meant to be hunter gatherers.
The role of proper diet in energy and hormone production
Does the Paleo diet reduce the body's stress load?
Another highly educational, fascinating presentation. I encourage you to listen to this interview!
Day 6 of the Paleo Summit is going to be fascinating (sorry, I know I keep using that word, but it's true). Each day has new surprises and highly informative interviews. Take a look at what's coming up:
Paul Chek – Founder, C.H.E.K. Institute

Living Primal: Instinct Before Intellect

With so much research and history supporting Paleo principles, why do people have such a hard time living them? Paul explains how the social conditioning built into the educational system has suppressed our abilities to think for ourselves. He also details the six foundational principles of abundant health — nutrition, hydration, sleep, breathing, thinking, and movement.

Dallas & Melissa Hartwig – Health Educators, Whole9 Life

Paleo for Vegetarians

Can vegetarians be Paleo? Good question! The Hartwig's share how the Paleo Diet is not all about eating meat, and how vegans/vegetarians can take advantage of the science supporting Paleo to improve their health.

Dr. Allison Siebecker – Naturopathic Doctor

Paleo Digestive Troubleshooting

The Paleo Diet

removes common gut-irritating foods like grains, dairy, and legumes from your plate. But what should you do if your digestive symptoms persist? Dr. Siebecker — an expert on IBS and Small Intestinal Bacterial Overgrowth — shows you how to tweak your diet to suit your personal digestive needs.
Check out today's interviews before they are replaced by tomorrow's. The information given by these true experts in the health, nutrition and fitness areas is invaluable. I'm amazed that the Paleo Summit live is free. A lot of time went into putting this together. Not only on the part of Sean Croxton, but also of that of the presenters. They spent a lot of time to being interviewed and preparing their talks. Honestly, it's like going to school again, but better! These are topics I want to learn about!
If you missed any of the presentations or just want to listen to them again you can buy the ENTIRE summit right now for only $67! Considering the amount of information that is packed in, that is a fantastic price!
You will also get FREE bonus ebooks, videos, and discount codes from Paleo Summit presenters, including:
The Whole 30 Success Guide by Dallas & Melissa Hartwig
The Last 4 Doctors You'll Ever Need by Paul Chek
The Practical Paleo Guide Book by Diane Sanfilippo
The Underground Cookbook by The Undergrounders
Heart Attack-Proof without Pills video series by Dr. Cate Shanahan
!