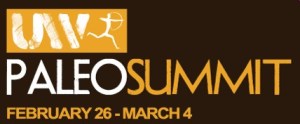 The Paleo Summit is winding down. On this second to last day of the event there are three more educational and informative presentations.Today's interviews start off with Dr. Cate Shanahan, author of the books "Deep Nutrition: Why Your Genes Need Traditional Food" and "Food Rules: A Doctor's Guide to Healthy Eating". Then we have Keith Norris, speaking about the connection between health and fitness. Lastly Sean interviews Dr. Daniel Chong about Earthing.
Dr. Cate Shanahan – The Paleo Diet vs. Top-Selling Drugs: Who Wins?
Dr. Cate compares the Paleo Diet to taking prescription drugs for treating three common medical conditions — osteoporosis, heart disease, and behavioral problems. The winner may surprise you.
Drugs as the lesser alternative to food
What's wrong with just taking a pill?
What are the side-effects of osteoporosis drugs? (This is serious! OMG!)
Important information about vitamin D and calcium!
What about dairy?
What about cholesterol pills?
Brain development, prescription drugs and diet.
Wow! What you will learn in this presentation is quite shocking. It was to me! If you are taking or know anyone taking osteoporosis drugs you have to listen to this one. You will be blown away!
Keith Norris – Health versus Performance
Can you be fit and unhealthy? Muscular strength and cardiovascular endurance are not always signs of health. Keith Norris explains why achieving peak performance should not be at the expense of optimal health.
What does health versus performance mean?
Are health and performance synonymous?
Do you need time and skills to be healthy?
Is it unhealthy to train for performance?
What are the classic signs of over-training?
Epigenetics? How much impact does it have?
I am not athletic by any stretch of the imagination, but I found this interview to be fascinating. It all comes down to listening to our bodies. Highly recommended!
Dr. Daniel Chong – Beyond the Paleo Diet: Earthing as an Essential Nutrient
Paleolithic man walked barefoot and slept on the ground. However, in our modern insulated world, we seldom come in contact with the Earth's surface. Does connecting to the Earth have a healing effect on the body? Dr. Chong explains the known and proven benefits of Earthing.
What is earthing or grounding?
How does earthing connect to the Paleo diet?
What happens when we earth?
What are some of the health benefits of earthing?
Why is earthing important in the modern world we live in?
What clinical successes has Dr. Chong seen?
This was a riveting interview. Who
knew that NOT touching the earth could be detrimental? This is a MUST listen to interview!
So, what has Sean scheduled for the final day of the Paleo Summit?
Jimmy Moore – Podcaster, The Livin' La Vida Low-Carb Show

How To Break Out Of The Grips Of Morbid Obesity And Embrace Healthy Living For Life

Morbid obesity doesn't have to be a death sentence once you become armed with the real food nutritional lifestyle principles and fitness facts that are essential for optimal health. Be inspired and learn what it takes to overcome seemingly insurmountable challenges to attain the health you've always wanted.

Stephanie Greunke, RD – Registered Dietitian

Ditch the D Word!

Does the word "diet" impose certain limitations on the Paleo Diet and those who follow it? Stephanie — a registered dietitian — shares her thoughts on how Paleo can escape the ill fate of fad diets.

Dean Dwyer – Author, Make Shi(f)t Happen (April, 2012)

The Inner Game of Paleo

Our experts can give you all of the nuts and bolts, but it's really up to you to DO it. Dean goes beyond diet and exercise and reveals the 6 inner game components that helped him reverse 25 years of failure and finally make shi(f)t happen.
I strongly encourage you to listen to  today's interviews before they are taken down. What ever your focus while following the Paleo diet, you will surely take away some phenomenal insights into your own health.
If you missed any of the presentations or just want to listen to them again you can buy the ENTIRE summit right now for only $67! Considering the amount of information that is packed in, that is a fantastic price!
You will also get FREE bonus ebooks, videos, and discount codes from Paleo Summit presenters, including:
The Whole 30 Success Guide by Dallas & Melissa Hartwig
The Last 4 Doctors You'll Ever Need by Paul Chek
The Practical Paleo Guide Book by Diane Sanfilippo
The Underground Cookbook by The Undergrounders
Heart Attack-Proof without Pills video series by Dr. Cate Shanahan
!