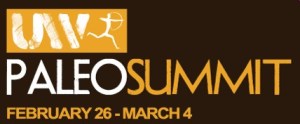 So who do we have on tap today, at the Paleo Summit day 3? Paul Jaminet, author of "The Perfect Health Diet", Dr. Tom O'Bryan and Matt Stone of 180degreehealth.com.
Paul Jaminet discusses Evolutionary Evidence for the Optimal Human Diet
So, where's the proof? Paul Jaminet serves up five lines of evidence supporting the perfect macronutrient ratios — carbohydrates, protein, and fats. He also shares the logic and rationale behind his controversial concept of safe starches.
Five lines of evolutionary evidence for the optimal diet.
What do we know about the diet of our Paleo ancestors?
How does your view of the Paleo diet differ from other bloggers?
Why are the diets of mammals relevant to what our diet should be?
Why do you think that breast milk is a good indication of what we should be eating?
And a lot more!
This was a fascinating interview. You gotta listen to this one!
Dr. Tom O'Bryan  discusses the Musculoskeletal Connection to Gluten and Autoimmune Disease
The most basic Paleo Diet recommendation is the removal of gluten. But did you know that gluten sensitivity goes well beyond the digestive tract? Dr. O'Bryan reveals the latest research on how gluten consumption may lead to autoimmune disease, osteoporosis, and muscle pain without digestive symptoms.
What exactly is gluten?
What is gluten sensitivity?
What is the prevalence of gluten sensitivity?
What is autoimmune disease and how common is it these days?
What is the connection between autoimmune diseases and gluten sensitivity?
This is another outstanding interview. If you know anyone who experiences migraines, get them to listen to this presentation.
Matt Stone Debunks the Paleo Diet
Is the Paleo diet a short-term fix? Are there any long-term side effects stemming from this way of eating? Matt Stone thinks so. Find out why Matt believes that claims regarding carb-induced insulin resistance are no more than a "scientific fairy tale". And learn how Matt has been able to help people recover their health on a diet high in starches — sometimes with grains and refined sugars!
Why do you question the Paleo diet?
What are some of the problems you have seen when people are following the paleo diet or lifestyle?
How do you change a person's physiology?
Is carb induced insulin resistance a fairy tale?
250 grams of carbs - from what sources?
What kind of strategies would you use for weight loss?
Do you want to be challenged? Are you dogmatic about the Paleo diet? Test your mettle by listening to Matt Stone's explanation of why he thinks the Paleo diet does not work.
What's up for tomorrow? A REALLY great line up!
Safe Starches: To Eat or Not to Eat?

Safe starches have

received their fair share of attention — and no shortage of controversy — in the Paleo blogosphere as of late. The Primal Body-Primal Mind outlines point-by-point why she believes the concept of safe starches is flawed.

Mat Lalonde, Ph.D. – Research Biochemist, Harvard University

Invalid Inferences: An Organic Chemist's Perspective on Paleo

Are common Paleo claims as scientifically valid as we think they are? What does the research really say about antinutrients? Harvard biochemist Mat Lalonde expounds the importance of keeping the Paleo movement credible by ensuring that claims surrounding the diet are scientifically sound.

Amy Kubal, RD – Registered and Licensed Dietitian

Paleo for Endurance Athletes

Can endurance athletes perform optimally while on a paleo diet? Amy Kubal — who placed first in a marathon while eating Paleo — shares the pre-, post-, and during-event paleo nutrition tips she recommends to her clients.
I can't wait! So far the information that has come out of this summit has been highly valuable. If you want to figure out what is best for your health and wellness you HAVE to listen to this lecture series. Don't have the time to listen everyday? You can The price goes up to $99 after. So buy it before the summit ends. WOW! It is so worth it!