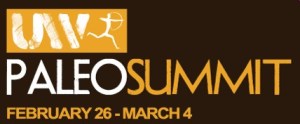 The Paleo Summit is here! The first day features Mark Sisson, of Mark's Daily Apple and Diane Sanfilippo of Balanced Bites.
Mark Sisson kicks off the program with a definition of what ancestral living really means. A basic tenet of the Paleo diet is to eat as our ancestors ate, but who were these ancestors? Mark answers that question and many others such as:
Are the genes of modern humans the same as our ancient ancestors?
Why do we not eat grains, legumes or dairy?
Did our ancestors consume legumes and what is the problem with them?
Did our ancestors cut their saturated fat intake?
Are there any human studies that prove the Paleo diet?
And many more questions!
Diane Sanfilippo talks about the practical application of the Paleo diet. She runs the website Balanced Bites. Some of the questions DIane answers are:
Why does Paleo make sense for everyone?
How does Paleo work for everyone?
How do people overcome the barriers to following the Paleo diet?
What are reasonable expectations as to how long it will take to become acclimated to the Paleo diet?
What are some of the biggest mistakes that people make when following the Paleo diet?
She gives outstanding information and great tips for following the Paleo diet.
So what are you waiting for? Go ahead and listen in. If you miss any of the days you can buy the entire Paleo Summit for $67 DURING the summit only. That is a terrific price for what is essentially an intense course on the diet that will shape the rest of your life. After the summit is over the price goes up to $99. Still a bargain, but why wait?Buying the Paleo Summit means you have it to listen to when ever you want. Click here to buy the Summit.
Tomorrow you will hear from:
Dr. Jack Kruse MD – Neurosurgeon

Leptin Circadian Cycles

Dr. Kruse uncovers how leptin resistance lies at the root of inflammation, obesity, and chronic disease. He also shares how he lost 133 pounds in

a single year by correcting the "biological mismatches" that were once prevalent in his life.

Sarah Fragoso – Author, Everyday Paleo

Paleo, Kids, and the Family

Transitioning a family to a paleolithic diet can be challenging. Author, wife, and mother of three, Sarah Fragoso rolls out a practical, realistic strategy for having a Paleo family.

Erwan Le Corre – Founder, MovNat

MovNat: Moving Naturally

Our ancestors never set foot in a health club. Instead, they stayed lean and physical fit by moving instinctually — walking, running, crawling, jumping, climbing, and more. Erwan presents how to regain your instincts for meaningful movement by moving naturally.
A great line up of interviews! Get on and listen. These presentations are up for only 24 hours, but if you miss them you can buy the entire Paleo Summit for only $67!