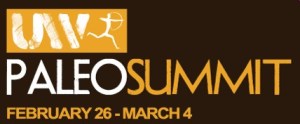 Sharpen your pencils and get ready to learn. The first ever Paleo Summit is taking place February 26 - March 3. What is the Paleo Summit? It is a series of presentations given on-line over the course of several days. Presented by Sean Croxton of Undergroundwellness.com, this summit is filled with presentations by some of the best known Paleo diet experts.
The theme of this years summit (I am making a broad assumption that there will more in the future) is:
Is the Paleo Diet the Answer?

Or is it Just Another Fad?

24 researchers, doctors, and diet experts turn back the clock to unearth ancestral solutions for our modern health scourge. The answers are ancient history…but certainly not extinct.
Among the MANY experts in the area of the paleo diet and
ancestral health will be:
To give you a taste of what what expect, here are a couple of presentations.
Day one
Mark Sisson – Author, The Primal Blueprint

Ancestral Living Defined

Mark Sisson kicks off The Paleo Summit by clearly defining paleo/primal living. Are grains safe to eat? Is dairy Paleo? Did your ancestors cut the saturated fat? Mark gives us the scoop.
Diane Sanfillipo – Author, Practical Paleo Practical

Paleo Implementation

Now that you know what to eat, the next step is putting it into practice. Diane explains what to expect from the Paleo Diet, how to overcome common obstacles, and the most effective ways to deal with the doubters.
Day two
Dr. Jack Kruse MD – Neurosurgeon

Leptin Circadian Cycles

Dr. Kruse uncovers how leptin resistance lies at the root of inflammation, obesity, and chronic disease. He also shares how he lost 133 pounds in a single year by correcting the "biological mismatches" that were once prevalent in his life.
Sarah Fragoso – Author, Everyday Paleo

Paleo, Kids, and the Family

Transitioning a family to a paleolithic diet can be challenging. Author, wife, and mother of three, Sarah Fragoso rolls out a practical, realistic strategy for having a Paleo family.
Erwan Le Corre – Founder, MovNat

MovNat: Moving Naturally

Our ancestors never set foot in a health club. Instead, they stayed lean and physical fit by moving instinctually — walking, running, crawling, jumping, climbing, and more. Erwan presents how to regain your instincts for meaningful movement by moving naturally.
Day three
Paul Jaminet, Ph.D. – Author, Perfect Health Diet

The Evolutionary Evidence for the Optimal Human Diet

So, where's the proof? Paul Jaminet serves up five lines of evidence supporting the perfect macronutrient ratios — carbohydrates, protein, and fats. He also shares the logic and rationale behind his controversial concept of safe starches.
Dr. Thomas O'Bryan – Gluten Sensitivity Expert

The Musculoskeletal Connection to Autoimmunity Disease

The most basic Paleo Diet recommendation is the removal of gluten. But did you know that gluten sensitivity goes well beyond the digestive tract? Dr. O'Bryan reveals the latest research on how gluten consumption may lead to autoimmune disease, osteoporosis, and muscle pain without digestive symptoms.
Matt Stone – Independent Health Researcher

Matt Stone Debunks The Paleo Diet

Is the Paleo diet a short-term fix? Are there any long-term side effects stemming from this way of eating? Matt Stone thinks so. Find out why Matt believes that claims regarding carb-induced insulin resistance are no more than a "scientific fairy tale". And learn how Matt has been able to help people recover their health on a diet high in starches — sometimes with grains and refined sugars!
Want more information about the
Paleo Summit
? Visit the website
paleosummit.com
, look over the agenda and then follow the easy registration process. It's free!  This is the perfect opportunity to learn more about the
Paleo diet
, whether you are a newbie or have been following it for many years. Register now!